Leadership Symposium 2014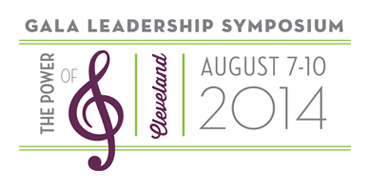 Thanks to all the participants of GALA Leadership Symposium 2014!
We hope you enjoyed the weekend in Cleveland and took away information that you can use and share with your home choruses. Special thanks to all the presenters – your service and expertise are invaluable and greatly appreciated. The workshops were well attended, the discussions were lively, and the 411 Advisors were kept busy.
Many of the presentation materials are available online, in the GALA Resource Center. The Resource Center is always a great place to pick up a few tips about programming, best practices, board responsibilities, and even vocal technique. Also, you can keep the conversations going, or start new threads, by joining any of the GALA Discussion Groups.
If you'd like to share any photographs of the weekend activities, you're more than welcome to post them on the GALA Facebook page.

"First of all let me say how much we got out of the GALA Leadership Symposium. Our leadership team is meeting tonight to really dig deep into the notes and ideas we took away and I'm sure it will be a marathon session. We came away feeling both empowered and confident that we've taken some good steps and laid a solid foundation for success."
-- David Reynolds, Steel City Men's Chorus