Over 30 workshops were offered at Festival 2012. Check out the descriptions on this page or download workshop materials.
Alumni Relations: A Model of Resource Development
Mick Welling, Todd Stephenson, Michael Moore - presenters / panel Who loves your chorus almost as much as the singers? The chorus' past singers; your Alumni, that's who! This oft-overlooked group can be a great resource to the chorus; as singers, committee members, project managers, workers, production staff, volunteers, audience members, patrons, or donors. Tap into the experience of the panel, who have created and been actively running an Alumni Relations Committee (ARC) for the last SIX years. Using guidelines from Revenue Development theories, learn how to make best use of your chorus' Alumni for "Resource Development".
The importance of Alumni database management.
The importance of building and maintaining Alumni relationships.
How to build an Alumni Benefits package.
How to increase Revenue and Resources from your Alumni.
Create a 3-5 year prioritizing plan of starting your chorus' Alumni Relations Committee (ARC)
Being the Very Best Board Chair Possible
Eve Campbell, presenter A good board chair or president can have the easiest, or the hardest, job on the board. You are in charge of which way it goes! Would you like to create greater balance and have a productive board? There are specific strategies and tools to assist in the process. These, combined with an understanding of exemplary traits of a successful board chair, can help you lead with ease.
Board Round Table
Eve Campbell, presenter Why re-invent the wheel? Join your peers to discuss and share common issues, successes and innovative new ideas. A facilitated round table discussion is amazingly informative and always one of the most popular sessions. You are not alone in your struggles…regardless the size of the budget or membership.
Bridging the Arts and Healing
Vickie Dodd, presenter The more performers are in touch with the healing they create within themselves through their performance, the more the audience can experience a healing. Bridging the Arts and Healing re-engages the essence of Art. Learn to use your voice to release stress, ease your mind, and nourish your body through sounding exercises to aid fluidity and flexibility, techniques to relax the nervous system, increased awareness of the breath, and tools that are complementary to other modalities of exercise and self-inquiry. "The power of Sound softens, relaxes, awakens and enlivens the memory of wellness, helping to create an interior environment that is more willing to receive and better able to mend. I am committed to the belief that if a person can resonate their physical body in a way that truly reflects the shaping of their emotional/feeling body, then they can engage the inherent wisdom of their physical spiritual self."
Three 45-minute morning sessions will offer a kind of contemplative beginning to the day. The sessions will build on each other, and the participants will have a focus to take with them for that day to 'practice.' The workshop will present the same material in a one-time offering.
The Conductor as Curator: A New Model for Programming and Audience Engagement
Jeffrey Nytch, presenter Performing arts organizations of all sizes and types are facing similar problems nationwide: financial support is becoming harder to come by, and audience numbers are often less than we would like them to be. Conversely, a recent report from the NEA reveals that museum attendance is at all-time highs and continues to climb. What are museums doing that we in the music world could learn from?
This workshop explores the role of the museum curator, and draws lessons that artistic directors can use in concert planning, presentation, outreach and audience engagement in order to enhance connection with our communities and revitalize our organization's mission.
De-Mystifying the Art of Conducting - A Crash Course for Everyone!
Kathleen McGuire, presenter Are you conducting - or want to conduct - but never really learned how? Know the basics but want to take it to the next level? Need a tune-up? Have challenges that need trouble-shooting? Or perhaps you're a singer and want to find out what happens on the podium? Dr. McGuire shares tried-and-true tricks of the trade that de-mystify the art of the conducting. You won't find this stuff in a book. Presented by an awarding winning choral and instrumental conductor with 30 years of experience in 5 countries.
Learning Outcomes:
Be ready to conduct with confidence, and able to tell others they have completed a workshop at an international festival with a world-class conductor.
Know the essential elements of conducting - e.g. posture, beating patterns, cuing techniques, score preparation, rehearsal and concert planning - and equipped with an arsenal of knowledge to deal with all sorts of conducting dilemmas.
Walk away with information that will be a springboard to a lifetime of richer and more successful experience as a musician and as a leader.
Developing a Prosperity Mentality
Nicki Lee, presenter Some singers and artists believe that pursuing their art relegates them to a life of poverty. The truth is you can change your beliefs and change your life. Learn self-hypnosis techniques in this session and begin to cultivate your prosperity mentality.
Double Your Fundraising Auction Income Now! How to Conduct a Profitable FUND A NEED
Kathy Kingston, CAI, BAS, presenter Don't leave money in the room! Optimize your powerful Fund a Need Special Appeal - literally at any fundraising event. Discover how to deeply engage supporters, shine a laser beam on your mission and raise more money than ever before.
You will learn how to easily implement this most profitable new income stream for your next fundraiser. Gain insights on how to select and perform a compelling first person story that exemplifies your cause. Inspire generosity with Kathy Kingston's "59 second" first person testimonial method. Find your lead gift donor and determine your best giving levels and streamlined logistics. Kathy will also coach several participants to fine-tune their on-stage and personal fundraising pitch.
A highly interactive and hugely financially rewarding, not to be missed session!
The Entrepreneurial Artist: Creative Approaches to Building a Career in the Arts
Jeffrey Nytch, presenter
Artists often shy away from "the business side of things" in their careers, either because they feel they lack the necessary skills or because they fear that making money must come at the expense of artistic integrity. The result is a world where most artists make meager subsistence livings or, worse yet, are forced by economic realities to give up their art altogether. While making a living as a professional artist is never easy, applying the principles of entrepreneurship can help change the way we approach the problem. This workshop will explore what entrepreneurship is, how it can be applied to the arts, and how it can unlock new creative energy and career possibilities for individual artist-entrepreneurs.
Feel Like Going On--MUSE and Her Journey and Commitment to Diversity
Cathy Roma and Lois Shegog Cathy Roma, artistic director of MUSE and Lois Shegog, the assistance director of MUSE will share their experience in creating a choral community dedicated to musical excellence and social change. There will be time to respond to a short video and their presentation in small groups facilitated by MUSE members.
Learning Outcomes:
See the relationship between expanding repertoire with authentic performance techniques and expanding singer and audience diversity
Better understand the challenge of acknowledging and overcoming differences without erasing the differences
Find Your Voice and Keep It!
Mary Louise Burke, presenter This fast paced, entertaining, informative review of vocal technique will touch on all your 'singer' concerns: breath control, range, efficient vibrato, sustained singing, and vocal aging. Mary Louise Burke has a passion for vocal technique and believes that every singer can sing their best at any age, any stage of experience. This class is designed for singers of all backgrounds and levels of technical experience.
Gay Square Dancing
Bear Miller, caller Modern Western Square Dancing, particularly as practiced by Gay clubs, is NOT your grandmother's square dancing. Today's callers use all types of music from Broadway show tunes, to pop favorites (including Lady Gaga) as well as traditional western and bluegrass music for dancing. The activity is no longer couples oriented (it's a great way to meet lots of new people) and the frilly dresses have gone by the wayside (unless the guys really want to wear the petticoats and crinolines!). Gay Square Dancing is high-energy, low-impact and just a heck of a lot of fun.
Improvising a Circle of Sound
Celeste Niehaus, presenter Know and trust your own voice as you collaborate with other singers. This workshop will offer you ways to improvise in order to connect and create unique pieces in a group. A cappella, fun and sometimes wild, singing in this way can open you to new possibilities in sound and style.
Leveraging Social Media for Your Chorus
Jim Nickerson & Teddy Witherington, presenters Is it worth it? In this "how to" session, the presenters will take you through the steps of establishing goals for your use of social media that are coherent with your organizational goals, identifying the audience(s) you wish to reach, assessing your capacity for the work, measuring success and adapting to the bewildering landscape of options. Practical questions like; what is a realistic fundraising goal, what do I measure and how, and how do I build support within the organization for this work, will be answered. Using case studies, the presenters will identify best practices to follow and pitfalls to avoid that will help you to devise a successful strategy for your own chorus: one that meets your needs, fits your resources and will be a good return on investment of both time and (very little) money.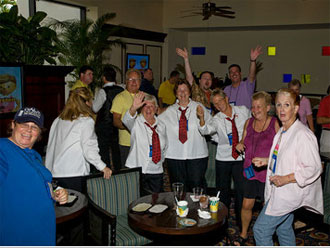 Musetta
Jim Haung, presenter Musetta is an affordable, web-based online data management system for choruses. It manages hundreds of aspects of choral life: donors, members, auditions, retreats, surveys, rehearsals, calendars, volunteer coordination, etc. Nearly a dozen GALA choruses use it to manage over 2,000 members. The system is under constant development and regularly incorporates new ideas from its users. This workshop will demonstrate the main features of Musetta, with plenty of time for questions. Whether you're a current user, or just want to find out more about it, you'll find this session useful and interesting. Additional information is available at https://www.musetta.org.
Praises for the World
by Jennifer Berezan Praises for the World is a simple chant, with layers of vocal and instrumental improvisation and spoken word performed over the chant; the audience is also invited to join in singing the chant. The chant is like a canvas or a vessel; each performance emerges with different textures, colors and feelings. Berezan's vision is for this work to be a celebration that will "deeply inspire all people to join in the vital work of social activism... and to find a renewed reverence for our world." She says, "We need to find ways to keep our hearts open in the midst of the fear, loss, and turmoil, to keep connected to our sense of love for the world and to act from this place to help save it. People throughout time have understood the power of ritual to focus our intentions, create community and healing, and empower us to act in awakened compassionate ways." Sound Circle first created and performed their version of Praises for the World in 2005, and it has become a recurring feature of our performing life, always evolving. It has had a profound impact on our growth as an ensemble and on our understanding of the nature of performance as community gathering. We will offer a 45-minute (continuous) performance and then talk with interested audience members about how to work with the piece. Given the continuous and contemplative nature of the piece, there will be no late seating.
Record Breaking Fundraising Auctions
Kathy Kingston, CAI, BAS, presenter Imagine if your next auction was record breaking. Imagine your guests were invigorated, and couldn't wait for next year! Imagine profits up over 20%! Most benefit auctions don't come close to realizing their potential. Discover innovative and proven ideas to boost your benefit auction to the next level now.
Maximize your fundraising efforts with pivotal auction and donor cultivation strategies. Design a "Culture of Giving" that goes beyond auction night. Empower new bidders and major donors. Imbed cultivation strategies into your auction. Uncover new sources for premium auction items. Stand out! Brand your auction for increased income. Spotlight the most important 10 minutes of your auction! Jazz up your Live and Silent Auctions.
Learn how to create the ultimate auction experience in this challenging economy…and make it profitable. Highly interactive and jam-packed with money making techniques, this workshop is informative and entertaining. Previous seminar attendees have raised thousands of dollars using Kathy's cutting edge techniques at their next auction.
Singing Back To the Natural World
Becky Reardon, presenter An immersion in the joys of responding to the natural world in song, featuring Becky's original rounds and songs celebrating the motion of the stars and planets, the moon, the rhythm of the seasons, and our own bodies. We'll explore using our sensory experiences to create vocal improvisations and we will learn how to use those improvisations as the basis for creating songs for community, and musical mantras for our own transformation.
Singing the Future: Creating Vibrant LGBTQ Communities
Glenda Russell, presenter We have come to a point in our development as an LGBT movement where we no longer have to spend all our time reacting against homophobia. We actually have the time and space--as well as the maturity--to work more proactively and more intentionally to build the kind of communities we want to live in and sustain us. This workshop will offer us all a chance to work together to develop a vision of what kind of community we want to make, what kinds of changes we wish to see in the world, and what individual and collective tools we have to undertake that work. While this workshop will include attention to what we know from research, its success will be rooted in all our insights and vision.
Sister Singers Network
Sister Singers Network nurtures the spirit, energy, and diversity of the women's choral movement by serving as a resource for responsible music sharing; communication among women's choral groups; production of regional, national, and international choral festivals; and active support of women composers and arrangers. Join members of SSN to learn about the mission and history of the network—and plans for the 2014 SSN Women's Choral Festival!
Strong Voices: Women Singing Together for Social Justice
Rita M. Kissen - presenter For the past five years Rita Kissen has been collecting stories of singers, directors and accompanists from women's choruses across the country. These stories, which form the basis of my book-in-progress, Strong Voices: Women Singing Together for Social Justice, tell of women whose commitment to excellent singing and progressive activism has put them in the musical forefront of 20th and 21st century feminism.
This workshop will begin with a brief history of women's choruses as they arose out of the women's music movement of the 1970's and '80's and will continue with a summary of what Rita has learned in over three dozen interviews with women's chorus members around the country. The interviewees have talked about how chorus members relate to one another and to their audiences; the logistics of day-to-day chorus operation; and the ways in which issues of race, class and especially sexual identity play themselves out in choral communities. Finally, women have talked about the meaning of social justice for themselves and their choruses and the many ways they have found to work for change in their communities and in the wider world.
Since this workshop is part of her ongoing research, she will be happy to share the results with participants, and also keep them apprised of her book progress if they so desire.
Throw Out Your Strategic Plan and Become A Strategic Doer!
Edward R. Gray, Ph.D., GRAYMAtter Solutions, presenter The workshop examines practical ways to organize the scope of work of the board of directors around strategic action, all of which is focused on your impact. Participants will learn how to focus time and energy on strategic impact at every board meeting of the year, not just at the strategic planning retreat. The workshop will focus on creating an impact statement for all stakeholders of the organization. Learn how to create a way to intentionally engage members more meaningfully and increase intended impact at all levels of the organization. The first session of the workshop will presentation first principles of impact. The second part will guide participants in the creation of an annual strategic impact calendar and a checklist for every board meeting.
Vocal Coach Program: An Excellent Alternative for Your Choir's Vocal Development
Dennis Coleman (Artistic Director), Jeremiah Selvey, Kristopher Jenkins & Christopher McCafferty (Vocal Coaches) presenters In August 2010, Artistic Director Dennis Coleman embarked on a two-year pilot Vocal Coach Program with the Seattle Men's Chorus. This panel will present a brief synopsis of its two-year story and provide a list of practical to-do's for your organization, including 1) funding such a program, 2) finding the right vocal coaches, 3) negotiating a contract, and 4) collaborating to find the best way to benefit your singers with the skills of your vocal coaches. This last point is crucial to the ongoing success of such a program, as will be elucidated through the panel discussion.
Voices from a Chorus
Paula Bresnan Gibson, presenter For the session of Voices from a Chorus, the author will discuss the inspiration for and experience of writing a book about the Gay Men's Chorus of Washington, D.C. ("GMCW"). She will read from parts of the book and discuss how Voices from a Chorus is a universal testament to the significant role that gay choruses play in the lives of its singers, supporters, and audiences.
Wooing and Winning the Perfect Mate…Oh, I mean Board Member
Eve Campbell, presenter The search for the ideal board member has a whole lot in common with the courtship ritual. First we dream about the ideal person, all the wonderful qualities and nuances that make that person desirable. Then we set our site on pursuing and engaging… followed by getting to know each other and putting our best foot forward. Who knows where it will go from there? Well, come find out! Let's fine tune the board development process so that everyone falls in love and stays in love.
Yoga
Steven Russell, presenter A yoga class for anyone of any level flexibility or amount of experience. Participants will explore breath, chant, movement, stretching, building strength, and relaxation, and will move down the path to peace of mind, strength of body, health, well being, and focus of attention. Participants should wear gym type clothing, and bring a yoga mat or large towel.