Festival 2012 Coffee Concerts
Wake up to the music! Seven GALA choruses were selected by audition to perform in morning Coffee Concerts that featured longer sets, multi-disciplinary performances, new commissions and some very unique programming. Click on the program name to view a description of each concert.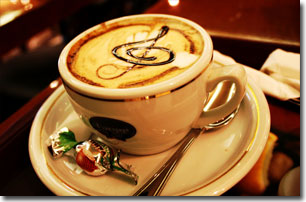 Featured Coffee Concerts included:
Gay Men's Chorus of Washington DC
Alexander's House
Alexander's House is an innovative, one-act musical that tells a heartfelt, funny and powerful story about family: the one we are born into, the one we choose, and the ties that bind them. Alexander, a gay man suddenly passes away leaving behind his two unreconciled worlds: his partner and friends, and his estranged son who finally meet at his summer home. The story explores finding truth in one's life and the empowerment that comes with self-knowledge.
Heartland Men's Chorus
When I Knew: Musical documentary
When I Knew explores the many different experiences of the coming out process - especially those moments in each of our lives when we knew we were different. For many, these experiences were accompanied by being teased, made fun of, or bullied. Dan Savage, co-founder of the It Gets Better campaign serves as narrator and the performance integrates elements of music, narration, and multi-media visuals to create a "musical documentary."
Sound Circle
Path of Beauty: Singing the Grand Canyon
The 17-voice women's a cappella ensemble, Sound Circle, collaborates with photographer Christopher Brown to offer a contemplative journey through the Grand Canyon through a continuous flow of song, soundscape, and visual imagery. Additional collaborators include Southwest singer/songwriter Becky Reardon and Tree Andrew on Native American flute. Composers include Malcolm Dalglish, Bobby McFerrin, Bill Douglas, Mary Ellen Childs, Joan Szymko and more.
Portland Gay Men's Chorus
The Young Person's Guide to the Gay Men's Chorus
This innovative concert honors the legacy of new compositions and arrangements written for gay choruses in the past three decades. The compositions are woven into a filmed "sitcom" featuring a fictitious high school Gay/Straight Alliance whose class project is to learn about the history of gay choruses. The performance features the full performing forces of the Portland Gay Men's Chorus, ensemble, dancers, lighting and interactive video.
MUSE: Cincinnati's Women's Choir
#Tweet2Roar: MUSE celebrates 29
MUSE is a women's choir dedicated to musical excellence and social change. We are women loving women: lesbian, bisexual and heterosexual women united in song. In this anniversary concert, audiences will enjoy vintage MUSE repertoire reminiscent of GALA Festival 1989 in Seattle, traditional and popular world genres, classical compositions, music by women composers, and songs of freedom, struggle, and justice. Our concert explores the music that sings and informs our lives.
Men Alive, the Orange County Gay Men's Chorus
"VonTrapped" A Musical Tribute to The Sound of Music
VonTrapped" is a spectacular musical production featuring a fully choreographed and costumed cast of 100+ singing and dancing Nuns, the problematic Maria, Mother Abbess, seven mischievous children, the bitter, heartbroken Baroness, the Captain, a yodeling goatherd, dancing goats, and more. Inventive performances of the classics from this iconic musical will be a highlight of the concert. The variety of campy, romantic and inspirational moments are intended to make this concert a delightful experience to remember.
Twin Cities Gay Men's Chorus
Out of My Range (and Other Age-Related Performance Issues)
Twin Cities Gay Men's Chorus proudly presents a new commissioned work composed by Michael Shaieb (Through a Glass, Darkly). Rehearsals and social events leading up to their next concert serve as the backdrop for a whimsical, fun, and revealing look at the age dynamics at play inside a gay men's chorus. This "backstage" song cycle reveals generational differences within a chorus, reminding us that age is not a limitation, but merely a state of mind.
Heartland Gay Men's Chorus
Twin Cities Gay Men's Chorus