Festival 2012 Blockbusters
Each evening, Festival 2012 featured special BlockBuster concerts for all delegates.
Opening Concerts: Colorado Choruses in a non-stop musical extravaganza in collaboration with local Denver instrumental ensembles.
Songs of the Soul: a concert exploring the connections between spirituality, sexuality, and musical expression.
Our Legacy=Our Song: A concert celebrating GALA's LGBT history through stories, photographs, narration and with music commissioned by our choruses over our 30-year history. The video of this concert will soon be for sale to member choruses.
Classical Masterworks Sing-Along: Thousands of delegates gathered with the Colorado Symphony Orchestra to sing famous classical masterworks in beautiful Boettcher Concert Hall.
The Big Gay Sing: A sing-along evening of Broadway, pop, choreography and LGBT-themed favorites including a Big Gay Idol contest!
Youth Invasion: Five youth choruses combined to perform a rockin' collaborative concert featuring individual chorus performances and several combined numbers.
Women's Chorus Singin' in the Round: Our GALA women's choruses gathered in the Stage Theater for a song-sharing evening.
Mixed Chorus Singin' in the Round: GALA mixed choruses packed the Boettcher Concert Hall for a song-sharing event after their party in the sculpture garden.
Men's Chorus Commission Sing-Along:
Men's choruses enjoyed a sing-along of favorite commissions in Buell Theater.
Check out the complete Festival Schedule.
Closing Ceremonies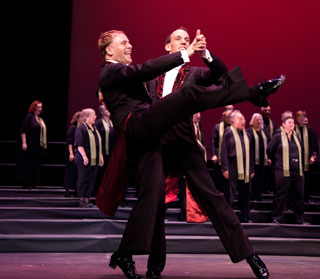 The Sugar Dandies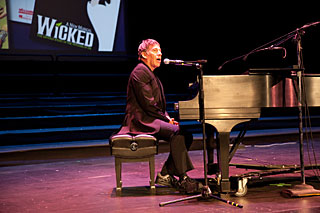 Stephen Schwartz
"Thank you for the experience of singing with the MileHIVoices (HIV+ chorus). In 20 years with GALA I have never done anything so wonderfully rewarding. I heard many stories from guys who used this concert to come out about their status to their own choruses. I know it was especially powerful for the guys who have been positive for less than 5 years to meet guys who have been positive for over 25."
- Delegate