The fabulous Steve Milloy is our guest conductor for the weekend, with accompanist, Cheryl Hunter on piano. As a Symposium Singer, you'll enjoy a weekend of beautiful and challenging music, explore vocal technique, informative workshops, and connections with singers from across North America!
Plan to arrive by Friday afternoon, February 18 for a 4:00 pm singer workshop and evening performance by our Atlanta GALA Choirs. The weekend concludes with a 12:30 pm Sunday performance for delegates at the GALA Symposium luncheon closing event. Book flight travel to depart after 3:30 pm on Sunday, February 20. Please complete this form so we know whether to expect you for the Friday vocal workshop and Sunday delegate lunch.
Concert attire: Black and white. Think contemporary concert hall. Be classy but not stuffy.
Pack: a black folder or tablet, music scores, KN95 or similar quality mask, water bottle, pencil, and snack for before the Sunday concert. Optional: pack a portable music stand if you have it. Helpful for learning the body percussion!
Greetings from Steve Milloy
Hello everyone – I am looking forward to some fabulous collaborative music making with you at the Atlanta GALA Leadership Symposium!
During our weekend together we are preparing four songs to perform for the GALA Symposium delegates at the closing banquet on Sunday. Scores are attached in this folder and I am hoping you each can have the notes learned before you arrive on Saturday morning! That way we can spend our rehearsal time working on blend, shaping, and nuance. Rehearsal tracks are nearly finished; we'll drop you a note when they are ready
For the concert, we will perform Alysia Lee's Say Her Name as well as the first movement of a new work she is composing for GALA Choruses. The working titled is "America Must See" and it examines the impact of the American pattern of racist violence and murder on Black motherhood. In composing this piece, Alysia says, "I have examined the words of Black mothers of landmark tragic murders, from Emmett Till to George Floyd, in addition to making new connections with an anti-violence initiative in my hometown, Baltimore, MD that is led by mothers." This score is nearly completed and will be in your music folder soon!
To round out the program we will perform You Don't Have to Ride Jim Crow from my work "Bayard Rustin: the Man Behind the Dream," and my arrangement of Louder Than Words from Jonathan Larson's musical, "Tick, Tick, Boom!", originally commissioned by Muse: Cincinnati's Women's Choir and the Cincinnati Men's Chorus.
Can't wait to meet you all soon.  See you in Atlanta!

Singer Workshops at Symposium
In addition to rehearsing with Alysia throughout the weekend, singers may participate in any of the Symposium workshops. The following workshops are especially focused toward singers.
Voice Building and Range Extension
The Second Voice Change: supporting the aging voice
New Harmony: Equity, Access, and Belonging
Networking opportunities with other singers
Plus lots of workshops on marketing, social media, fundraising and chorus management.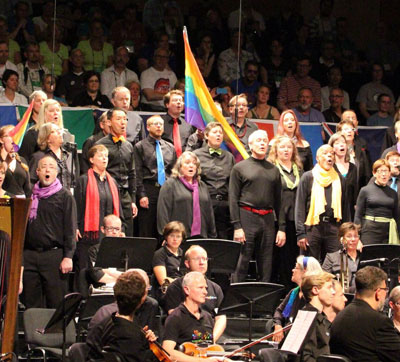 About Steve Milloy
Currently serving as the artistic director of the Cincinnati Men's Chorus Steve Milloy (b. 1965) has spent over three decades coaching and directing singers in schools, churches, theaters, and concert stages across the United States. Nowadays he is a much sought-after conductor, clinician, composer, and arranger in the US and abroad.
With Dr. Charles Beale, he co-authored the Popular Voiceworks series for Oxford University Press. His original choral work, Bayard Rustin: The Man Behind the Dream premiered in January of 2017 and has been performed by many choruses across the United States. You can find several of his arrangements & compositions at Sheet Music Plus.
Steve received a BA in Music from Miami University and a MM in conducting from the University of Cincinnati/College-Conservatory of Music.