It's been far too long since the GALA community has gathered together, and it's time to reconnect! The GALA Leadership Symposium is back LIVE and in person February 18-20, 2022 at the Hyatt Regency at Villa Christina in Atlanta, GA. Book your hotel room through the link on the right sidebar on this page.
Current plans include a focused track especially for singers, along with dynamic workshops and discussions for chorus leaders. Friday will feature an afternoon orientation for new GALA chorus artistic directors and evening social events, and workshops will run through Sunday afternoon.  Delegates should arrive early Friday and stay through Sunday afternoon.
The fabulous Alysia Lee will be serving as the guest conductor for the Symposium Chorus, and will be our keynote speaker. Alysia is the founder of Sister Cities Girlchoir and a member of Chorus America's board of directors. You may remember her from our "Rise Up!" virtual event in April, which explored music and social justice. Watch the video on GALA's YouTube channel.
We continue to watch the COVID-19 situation, and in order to ensure a comfortable and safer environment for all attendees, we are requiring Symposium delegates to provide PROOF OF VACCINATION upon registration.  MASKS will be required in the public areas. We'll also be recording some of the more significant sessions for people who cannot attend the live event. Our local member choruses in Atlanta are scouting out alternative spaces for safe Symposium Singer rehearsals.
REGISTER for Symposium through the Integra Planner.
Log in to Integra with your personal email as your username.
Scroll down your home page to the section for Symposium 2022 and click the green "Register" button.
Review your Profile and make any edits.  Be sure to SAVE your Profile information to continue.
Upload a photo of your COVID-19 vaccination record (this might take a few minutes).
Order a registration type.
Pay online with a credit card, using the PayPal option (you don't need a PayPal account) OR mail a check to GALA Choruses, PO Box 99998, Pittsburgh PA 15233.
| | | |
| --- | --- | --- |
| Early registration (through Dec 31) | 1st or 2nd delegate from a chorus | $275 |
| Early registration (through Dec 31) | 3rd person (or more) from same chorus | $200 |
| Regular registration (Jan 1 - Feb 14) | 1st or 2nd delegate from a chorus | $325 |
| Regular registration (Jan 1 - Feb 14) | 3rd (or more) delegate from same chorus | $250 |
| Local singers - symposium chorus ONLY | No workshops or other events |  $50 |
| Post-Symposium recorded sessions only (does not include all workshops) | Select recorded workshops & handouts | $100 |
We're so looking forward to being together again!
Participation Guidelines for All GALA Workshops
 At GALA Choruses' workshops we strive to create an environment in which attendees experience a compelling, engaging, inclusive and civil learning experience. As such, any acts of discrimination, harassment, emotional or physical harm will not be tolerated.  We ask that participants commit to creating a supportive, respectful environment for learning and growth:
As a sign of respect for original work and preparation by our presenters, we request that participants not capture and share screenshots (in virtual events) or take photographs of slides (in physical events) unless the speaker/presenter provides verbal prompts that their content is available for such distribution.
We are mindful that learning in a virtual setting may provide all participants with details on other participants that is not typical in an in-person learning environment (full name, glimpse into their home, etc.). We ask that our participants actively respect one another's privacy.
Workshops should be considered 'safe spaces' for dialogue and sharing of viewpoints and lived experiences. As such, while we encourage the sharing of relevant information outside of our workshops, we do expect privacy related to individuals or chorus affiliation is maintained when needed and appropriate.
As noted in the GALA Choruses Gender-Neutral Language Statement, participants' pronouns will be acknowledged and honored.
Workshop moderators will be mindful of bringing a diversity of participants with various opinions into the conversation, in order to heighten learning with the understanding that responses will be delivered in a respectful manner.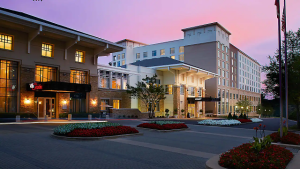 Reserve a Room at the Hyatt
Symposium 2022 will be held at the Hyatt Regency Villa Christina, 4000 Summit Blvd in Atlanta, GA 30319.  For the best rates at the Hyatt Regency, be sure to book your room through Convention Housing Partners at this special link.