Note that all times shown are Eastern time zone. There will likely be further changes to the schedule prior to the event. The official schedule is shown on Hopin.
Click on the "+" to view a description.
Friday, October 16, 2020
2:00 - 2:30pm

Justice Choir Songbook Sing

Join the Justice Choir Songbook Sing-along session and learn songs from the Justice Choir Songbook. Learn what some of your colleagues have been doing in Portland, OR with virtual sing-alongs and sing in community with others in GALA Leadership. Download the Justice Choir Songbook in advance so you will have the music in hand.

Mary McCarty and Stephanie Lynne Smith
2:30 - 2:50pm

Introduction to the GALA 2020 Virtual Leadership Symposium

Join us for a description of the components of the GALA 2020 Virtual Leadership Symposium and some quick tips on how the technology will work.

Robin Godfrey
3:00 - 4:00pm

Masked, Distanced & Singing

Are there ways to sing in the outdoors during a pandemic? Review recent studies and several choruses' approaches to singing live.

Brayton Bollenbacher, Jane Ramseyer Miller & Meagan Johnson
3:00 - 4:00pm

How Boards Can Lead Through COVID-19

GALA 411 advisors Eve Campbell and Rick Jung will lead attendees through a discussion about contingency planning and leadership challenges during the pandemic.

Eve Campbell and Rick Jung
3:00 - 4:00pm

A New Harmony – An Introduction to the Workbook

In order for choruses to accomplish transformative social justice goals, chorus organizations must themselves be welcoming and accessible spaces. This introductory session will explore A New Harmony, GALA Choruses' workbook for facilitators and moderators leading discussions on topics including race, ability, gender identity and sexual orientation, with volunteers. By improving access to and representation in our choruses, we can all continue to create a world where all voices are free.

Maria-Elena Grant and William Southerland
4:15 - 5:15pm

Monetizing Virtual Concerts

What does it take to generate income in a virtual performance world? In this session, we'll explore possible revenue streams for virtual performances and the tools you'll need to make them successful. Expect to come away with at least a few creative ideas for monetizing your virtual performances!

Tori Cook
4:15 - 5:15pm

Creating Emotional Safety/Polyvagal Theory

Learn about what we can do as directors and leaders to create more emotional safety in our rehearsals and other chorus-related activities, leading to more connection, authenticity and a stronger community. We will use a physiological and trauma-informed approach through the lens of the research of Stephen Porges, "Polyvagal Theory: The Transformative Power of Feeling Safe."

Kathleen Hansen
4:15 - 5:15pm

Chorus Sexual Harassment Policies: An Ounce of Prevention...

Even if a chorus member's behavior does not lead to legal action, reports of inappropriate conduct can be embarrassing to a chorus's reputation, and devastating to the budget. This workshop will provide an explanation as to why harassment policies are important to have in place before any issues are recognized or reported. Participants will review definitions of sexual harassment and other behaviors that can affect morale. The presenters will go over advice on what elements should be included in a policy, and how to implement policy and procedures so a Chorus can defend itself in the event of an allegation or litigation.

Brayton Bollenbacher and Doug Althauser
5:30 - 6:30pm

Choruses that Are Of, By and For All

Of/By/For/All envisions a world in which all people are empowered to share their talents to strengthen their communities. Communities in which people feel safe, welcome, and connected to the strangers who cross their paths every day. We are helping build this future by equipping civic and cultural organizations to become of, by, and for their communities. OF/BY/FOR ALL provides tools, community, accountability, and coaching on radical inclusion. You bring your own urgent desire for change.

Nina Simon
6:45-7:15pm

Artistic Director Virtual Choir

Watch and listen to our GALA ADs perform as a virtual choir.

7:15 - 7:20pm

Queer Beer Choir

Grab a beverage and sing along!

Miriam Davidson
Saturday, October 17, 2020
1:00 - 2:00pm

Orientation for New Artistic Directors

Are you an artistic director who is new to GALA Choruses in the past year? Join us for a brief orientation to GALA Choruses. This round table is a space to meet other conductors in a smaller setting, ask any questions that are burning, and get to know the resources available through GALA Choruses.

Kathleen Hansen and Jane Ramseyer Miller
1:00 - 2:00pm

Transitioning Back to Live Rehearsals

A panel discussion around the issues associated with transitioning back to live rehearsals.

John Quillin and Tom Gabbard
1:00 - 2:00pm

Chorus Committees – Focusing on Racial Justice Work

This roundtable discussion is intended for committees or individuals who are invested in Diversity, Equity, and Inclusion (DEI) work in their choruses, specifically highlighting Racial Justice as a focal point. We'll go over the 5 C's of Change: Chorus, Committees, Creative, Collaboration, and Charge. This is a great opportunity to learn from each other no matter the make-up, size, or age of your choir or DEI committee.

Amir Shirazi and Erin Bernier
1:00 - 2:00pm

Religious Diversity in Choruses

A panel discussion of the issues around religious diversity in LGBT choruses.

Maria-Elena Grant, Reid Vanderburgh and Anthony Cabrera
2:15 - 2:50pm

GALA Poster Sessions

Choruses share their most creative fall ideas for thriving during the COVID-19 pandemic in 5-minute poster sessions. Take the best ideas home!

Civic engagement and get out the vote
Podcast to share poetry, music and stories
Trans choruses joint rehearsals and performance collaboration
Murder mystery musical on Zoom
Racial Justice: Guiding Pillars of our Social Justice Work

Jillian and Charmaine Moore Kitsinis – MUSE Cincinnati's Women's Choir
Ben Houghton –Youth Pride Chorus
Nicky Manlove - THEM Youth Ensemble
Robert Glor – Our Song: the Atlanta Gay & Lesbian Chorus
Paul Heins and Cameron Parker – GenOUT Youth Chorus
3:00 - 4:00pm

Designing a Virtual Cabaret or Concert

Kathleen Hansen (San Diego Women's Chorus) and Thea Kano (Gay Men's Chorus of Washington, DC) will walk you through their processes to create their chorus' online cabaret fundraisers, including rehearsals, obtaining sync rights, video editing, and streaming.

Kathleen Hansen and Thea Kano
3:00 - 4:00pm

A New Harmony: Training for Chorus Facilitators

This session is intended for individuals serving as facilitators for their chorus' equity, access & belonging work.

Sam Bullington and Reid Vanderburgh
3:00 - 4:00pm

Sonic Integrity

This session will attempt to demystify the (sometimes intimidating) aspects of amplifying choral audio, covering the best practices of choral sound design and live sound for groups of all sizes, ensuring sonic integrity to your audiences in any venue. From microphone types, mic placement and stage monitors, to recording, we'll address some of the common audio issues that choral groups face. We will also address collaboration with a venue's audio crew to optimize use of audio equipment for performances & rehearsals, and get the most accurate audio reproduction of your group's sound possible. We'll conclude with an overview of best practices for creating outstanding audio for your next Virtual Chorus Project, including planning, preparation of guide tracks, recommended mics, getting the best performance out of your chorus, mixing and mastering.

Lucio Maramba
4:15 - 5:15pm

Producing a Virtual Auction Fundraiser

Join us for a discussion of the considerations in producing a virtual auction fundraiser for a small to mid size chorus.

John Quillin and Drew Huggins
4:15 - 5:15pm

Repertoire Sessions

Artistic directors will meet by type of chorus to share repertoire and programming ideas.

Steve Milloy, Robert Glor and Kim Waigwa
4:15 - 5:15pm

Mental Health for Chorus Leaders

Taking care of our own mental health through the pandemic requires our attention.

Sam Bullington and Bobby Kizer
5:30 - 6:30pm

Usizi: A South African Choral Response to COVID

Mollie Stone will be teaching the song "Usizi"-- a powerful new composition by South African composer Bongani Magatyana, which explores the isolation experienced during COVID. Stone has written extensively about Magatyana's heroic work during the height of the AIDS epidemic in South Africa, during which he led a musical ensemble dedicated entirely to HIV-prevention education in the township of Gugulethu.

Mollie Stone and Bongani Magatyana
7:00 - 8:00pm

Nightcap…A Virtual Celebration

Miss Richfield 1981 will drop her mask and raise her skirt to join us as our sassy and wisecracking guest host and entertainer. Check out our live auction items under Fundraising

Miss Richfield, host and Michael Tate, auctioneer
Sunday, October 18, 2020
1:00 - 1:55pm

New Harmony Check-In with Choirs

A panel discussion for chorus members working with the New Harmony workbook.

Anthony Cabrera
1:00 - 1:55pm

Intergenerational Dynamics

A key component to keeping the chorus experience relevant for everyone is to engage and include and value everyone based on their/our ever-evolving desires and limitations. Let's explore keeping older singers on the risers rather than graduating them.

Sam Bullington and Joel Davis
1:00 - 1:55pm

Maximum Impact, Minimal Personnel

A roundtable discussion on strategies for achieving maximum impact with limited resources.

Abdullah Rasheen Hall and Kathryn Davis
2:00 - 2:50pm

Facilitated Open Space

ADs, administrative management and board members will have spaces for open conversations.

3:00 - 4:00pm

My Choral Coach

Learn about a simple guided practice and choral management system that will keep choirs engaged and reaching their goals.

David Smolover
3:00 - 4:00pm

Copyright Considerations in a Virtual World

Learn about the copyright considerations specific to rehearsals and performances in a virtual setting.

Kathleen Hansen, Janice Bane and Randy Kikukawa
3:00 - 4:00pm

Beyond the Music: Keeping Singers Engaged

Learn about a variety of approaches to keeping singers engaged outside of only singing. We'll answer questions such as: How do you sustain membership? How do you entice singers to show up to a virtual rehearsal/event? How do you take advantage of this time and grow community?

Amir Sharazi and Daniel Arredondo
4:15 - 5:15pm

Getting the Most Out of Zoom for Virtual Rehearsal.

Learn about the latest techniques for virtual rehearsals in Zoom and other exciting tidbits.

Abdullah Rasheen Hall and Miriam Davidson
4:15 - 5:15pm

Preparing Your Chorus to Succeed in A Changed World

When we resume singing in person, our organizations will be operating in a changed - and likely more difficult - environment. What do you need to be doing now to prepare your chorus to be successful in a world that is evolving around us? We'll discuss the societal and business challenges facing us, question if our sense of mission is truly ready to meet the times, and explore the internal cultural frameworks that can inhibit how we make decisions. We'll end with a personal action plan for what comes next.

Steve Smith
4:15 - 5:15pm

Creating Choirs of Welcome for Trans Singers

Learn more about how to make your choir a welcoming place for trans singers.

Reid Vanderburgh
4:15 - 5:15pm

Working with Performance Venues Post-COVID

In this session, we'll explore the many challenges concert venues are currently facing and how they're planning to move forward in the years ahead. Tori Cook, Director of Sales & Marketing at Chorus Connection, shares her key findings after speaking with several concert venues across the country.

Tori Cook
4:15 - 5:15pm

Looking Forward: Festival 202ONE

Join us for an update on Festival 202ONE planning.

Robin Godfrey and Jane Ramseyer Miller
Presenters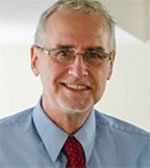 Douglas Althauser
Douglas Althauser is an attorney in Ohio specializing in family and juvenile law, who provides pro bono services for 501(c)3 organizations.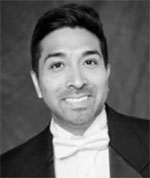 Daniel Arredondo
Dr. Daniel Arredondo (he/his) serves as the artistic director for the Austin Gay Men's Chorus. He earned his undergraduate degree in music education at Westminster Choir College, his master's degree in choral conducting from Texas State University, and his DMA in choral conducting from the University of Texas. Daniel also serves as the director of music and worship arts at Uprising Austinn, a progressive and inclusive church for the denomination of Metropolitan Community Churches. In academia, he's a consultant and mentor for music educators across Texas and an adjunct professor for the school of music at Texas State University.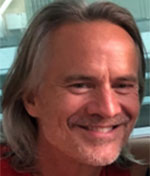 Erin Bernier
Erin Mathew Bernier, he/him/his, is a healthcare provider, singer, performer and father. He began his tenure with the Twin Cities Gay Men's Chorus back in 1990, moved away in 1996, so left TCGMC but continued to study voice, acting and performing. Returned to Minnesota and TCGMC and have been a singing member, Production manager and board member for the past 5 years.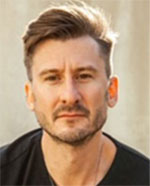 Brayton Bollenbacher
Brayton Bollenbacher is the Artistic Director of the Columbus Gay Men's Chorus and its Illuminati ensemble and a member of the GALA Choruses Board of Directors. Brayton received a Bachelor of Music in Vocal Performance from The Ohio State University and a Bachelor of Arts in Sexualities Studies. Brayton completed his Masters in Social Work at the University of Washington and earned his LICSW credentials.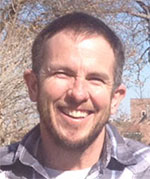 Sam Bullington
Sam Bullington is a public speaker and workshop facilitator, college professor and spiritual counselor, and founder and director of Phoenix, Colorado's Transgender Community Choir. Sam's specialties are in gender (Sam is nonbinary trans with a Ph.D in global gender and sexuality studies), unlearning racism, and decolonizing practices. Sam was one of the inspirations for GALA's New Harmony work following the 2012 GALA Festival in Denver and was a founding member of GALA's New Harmony Task Force. Sam's passion is creating a world in which we can all thrive.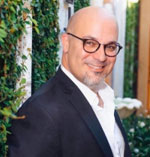 Anthony Cabrera
Anthony Cabrera enjoys a robust career as a teacher and singer. Having received his degree in Music Education from the University of Miami in 1999, Anthony has been the Artistic Director of the Miami Gay Men's Chorus since 2007.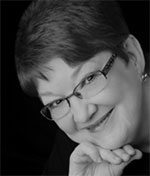 Eve Campbell
Eve Campbell serves as the Executive Director of Voices of Note (the Atlanta Men's and Women's Choruses) and currently works as a consultant to non-profit arts organizations to help with strategic planning, crisis intervention, annual planning, fund development strategies and other board issues.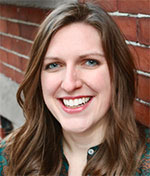 Tori Cook
Tori Cook sings with the Tanglewood Festival Chorus and is a board member of the Greater Boston Choral Consortium. As the Director of Sales & Marketing at Chorus Connection, she is known for creating relevant chorus management content and managing choral communities, such as The Chorus Management Network on Facebook.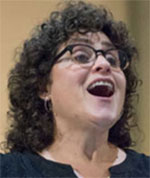 Miriam Davidson
Miriam Davidson is Artistic Director of ANNA Crusis Women's Choir and is a multi-instrumentalist/vocalist, singer-songwriter, author and recording artist as well as choral director. As a performer she has toured extensively throughout the US, garnered many awards from both the Folk and LGBTQ communities and has recorded and co-produced eight CDs, several of which have won national awards.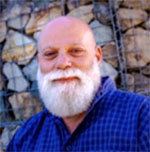 Joel Davis
After singing in choirs throughout his entire school life, Joel Davis began singing with gay men's choruses at age 25. He is now 66 and continues to be a singer: He has sung in choruses through every stage and decade of his life.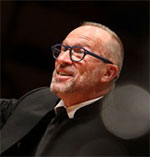 Robert Glor
Robert Glor is the founding Artistic Director of OurSong, Atlanta's LGBTQ Chorus. OurSong is in its 19th season. In addition to the regular concert schedule, OurSong has performed in several cities in the North America and has toured Czechia, Germany, and Ireland. In the 1990s, Robert was the Artistic Director of the Atlanta Feminist Women's Chorus and also musical director for All Saints and Christ Covenant Metropolitan Community Churches. Robert holds Bachelor of Science in Music Education, a Master of Music in Voice Performance and a Doctor of Musical Arts in Music Education. As an educator, Robert taught and worked in DeKalb County School District for over 20 years with over 18 of those years at Chamblee Charter High School. He also served at the General/Choral Music Coordinator for DeKalb Schools. Previously he also taught in the St. Louis area.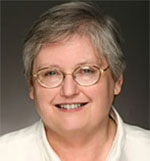 Robin Godfrey
Robin Godfrey is a native of western Pennsylvania and a long-time lover of choral music. Her professional background is in accounting and finance and Robin worked as a financial consultant to GALA Choruses for two years prior to being appointed Executive Director in February 2007.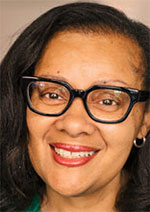 Maria Elena Grant
Maria-Elena Grant currently serves as a member of the GALA Choruses Board of Directors. She is honored to be a participating member of The New Harmony Task Force and a Co-Writer of the New Harmony Handbook – and is always happy to participate in any dialogue that helps to create a more just, equitable and inclusive world.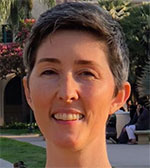 Kathleen Hansen
Kathleen Hansen has been working in the field of music education and performance since 1998. She has a Bachelor of Music degree specializing in music education and trumpet, a teaching credential, and a Master of Music degree in conducting. Kathleen is passionate about providing meaningful opportunities for all people to connect through musical experiences.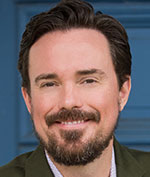 Drew Huggins
Drew has been president of the Dayton Gay Men's Chorus for 4 years. During that time the Chorus has collaborated with the Dayton Contemporary Dance Company, the Dayton Philharmonic, and Dayton Ballet to name a few. The DGMC has consistently increased fundraising and grant performance under his leadership.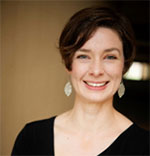 Meagan Johnson
A dynamic, interdisciplinary artist educator, Meagan Johnson blends professional expertise as a certified Alexander Technique teacher, conductor, singer, and voice educator. Meagan teaches Alexander Technique at the Indiana University Jacobs School of Music, maintains an active studio teaching voice and Alexander Technique, and is Artistic Director of Indianapolis Women's Chorus.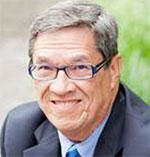 Richard Jung
Richard Jung is the Executive Director of the Portland Gay Men's Chorus bringing over 25 years of non-profit sector experience including 6 years as a National Senior Program Officer at the Gill Foundation in Denver, CO. He brings a broad diversity of fundraising experience including grant writing, donor and corporate development, events and strategic planning.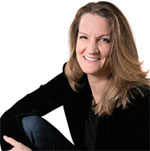 Thea Kano
Thea Kano holds an undergraduate degree in Choral Music Education from Arizona State University, and a Master of Music and a doctorate in conducting from UCLA. She taught high school choral music for several years before joining the Gay Men's Chorus of Washington DC as its Artistic Director.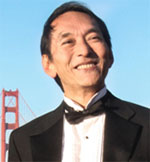 Randy Kikukawa
Randy Kikukawa is music director of the GAPA Men's Chorus (since 1991). Under his direction, they have sung throughout the Bay Area, and in Seattle, Los Angeles, Montréal, Denver, Taipei, and Tokyo. He is a founding member of the Golden Gate Men's Chorus, and has been Managing Director since 2015.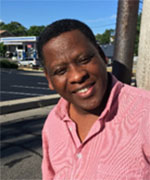 Bongani Magatyana
Bongani Magatyana is a music director, composer, and theatrical producer. Born in Cape Town in a township called Old Crossroads; his father was a self-taught choir conductor in the Old Apostolic Church (OAC). Magatyana's father taught him to read and write tonic solfa music notation at a very young age, and he dreamed of becoming a church choir conductor like his father. Today, he conducts a 120-voice OAC choir as well as a male community choir. His folk-inspired choral compositions—popular pieces for South Africa's major choral competitions—are performed by choirs across South Africa and internationally.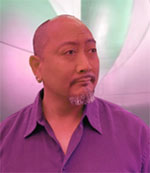 Lucio Maramba
Lucio Maramba is a seasoned Sound Designer, Audio Producer, Recording Engineer, singer, and multi-instrumentalist, with a focus on choral productions of all sizes. Maramba travels the country with the It Gets Better National Tour for the San Francisco Gay Men's Chorus (SFGMC), as Sound Designer and onsite Sound Engineer. He has been Audio Producer for the Gay Men's Chorus of Los Angeles (GMCLA) since 2004, responsible for live audio (performance & rehearsal), and recorded audio, including producing 5 albums. A 17-year singing member of GMCLA, he also sings and produces audio for its small a cappella ensemble, Aftershock. He is the CEO & Owner of Analytics, Insight, Integrity Performance Management. Audio is his passion.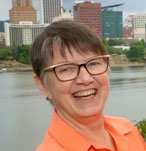 Mary McCarty
Mary McCarty is the Artistic Director for the Portland Lesbian Choir and Associate Conductor for the Portland Gay Men's Chorus.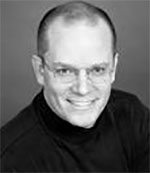 John C. Quillin
Artistic Director John C. Quillin is the founding artistic director of Gay Men's Chorus of Charlotte, a post he has held since 2006. Under his leadership, the Chorus seeks to establish itself firmly within the Charlotte arts community, and at the forefront of LGBT organizing. Mr. Quillin holds a Bachelor of Arts in music theory from the University of North Carolina at Greensboro and has over 25 years as a professional musician. He served as the artistic director of One Voice, the Gay, Lesbian & Gay-Affirmative Chorus of Charlotte from 1994 until 2004. He has conducted on stages in Toronto, Denver, San Jose, Tampa, Atlanta, Charlotte, Raleigh, Greensboro, Asheville, Knoxville, Columbia, and Wilmington.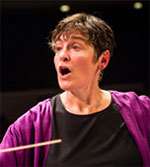 Jane Ramseyer Miller
Jane Ramseyer Miller serves as Artistic Director for GALA Choruses and is responsible for the artistic aspects of GALA events, resources and Festivals. She is also in her 26th year as Artistic Director for One Voice Mixed Chorus in St. Paul, Minnesota. She holds a Masters of Music in Choral Conducting from the University of Minnesota and a BA in Psychology from the University of Waterloo in Ontario, Canada - and uses both degrees in her work every day!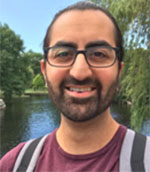 Amir Shirazi
Amir Shirazi (Ash), they/them/theirs, is an active composer, arranger, and songwriter. They serve as Artistic Director for Transpose PDX, are a member of the Diversity, Equity, and Inclusion Committee for the Portland Gay Men's Chorus, and are one of the organizers of the 2021 Trans Voices Festival.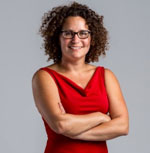 Nina Simon
Nina Simon is the Spacemaker & CEO of OF/BY/FOR ALL, a global nonprofit that creates digital tools to help civic and cultural organizations become more inclusive, relevant, and sustainable. Nina is the best-selling author of The Participatory Museum (2010) and The Art of Relevance (2016).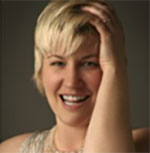 Stephanie Lynne Smith
Stephanie Lynne Smith serves as Artistic Director for the Northwest Queer Chorus and tours the country as pianist for Broadway veteran Franc D'Ambrosio (Godfather III/Phantom of the Opera).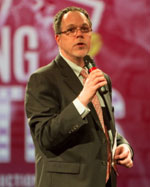 Steven Smith
Prior to joining Berkshire Choral International as President, Steve Smith provided transformative leadership as Executive Director of Seattle Choruses; Revels; and Boston Gay Men's Chorus. He has a degree in Arts Management from Baldwin-Wallace University and attended an Executive Leadership Program for nonprofit cultural organizations at Harvard's Kennedy School.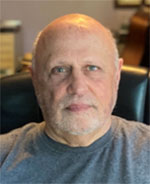 David Smolover
David Smolover is a career musician, educator, composer and entrepreneur whose lifelong mission has been to create ways for people to express themselves musically. He founded the National Guitar Workshop and DayJams, summer workshops that grew to be the largest summer music programs in the United States. His publishing company, Workshop Arts, published over 450 titles with Alfred Music. In 2014 he was introduced to Kristo Kao and Margus Niitsoo, the Estonian creators of the assessment and feedback technology, MatchMySound. In 2019, his company acquired the technology. MatchMySound provides its technology services to many of the leading companies in the music industry including Hal Leonard, MusicFirst, Noteflight, Piano Adventures, School of Rock and many others. In addition, MatchMySound technology powers My Choral Coach and Marching Band Pro used by 700 universities and church/community choirs across the country.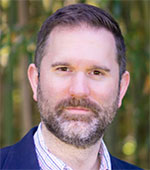 William Southerland
William Southerland, Ph.D. recently received a doctorate in music education from UNC Greensboro, where he defended his dissertation, Factors of Motivation to Participation in LGBTQ-Affinity Choruses. William has presented on identity-related accessibility in music spaces at state, regional and national conferences and published articles in Music Educator's Journal, Choral Journal and his latest upcoming publication in Queer Media and Popular Culture.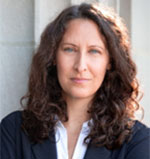 Mollie Stone
Mollie Stone serves as Choral Conductor and Lecturer at the University of Chicago, Co-Founder/Director of both the Chicago World Music Chorus and the Augsburg/Twin Cities Global Harmony Choir, and teaches internationally with the organization Village Harmony. Stone holds a Bachelor of Arts degree from Amherst College, a Master of Music degree in conducting from Westminster Choir College, a Doctorate in choral conducting from Northwestern University, and has studied at the University of Cape Town in South Africa. Stone wrote her dissertation on how Black South Africans have adapted the choral music of the anti-apartheid struggle to address the HIV/AIDS epidemic.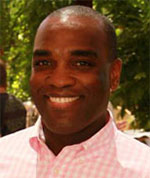 Michael Tate
A San Francisco resident since 1998, Michael Tate is an inspired and inspiring auctioneer with a demeanor that endears him to diverse audiences. He is unabashedly passionate in his commitment to helping nonprofits achieve their goals. Over the past decade, he has worked with more 50 local, national and international nonprofit organizations, including GALA Choruses, San Francisco Gay Men's Chorus, Gay Men's Chorus of Washington, DC, and Silicon Valley Gay Men's Chorus, to maximize their gala fundraising efforts. He can be reached on Facebook at michaeltateauctions.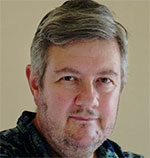 Reid Vanderburgh
Reid Vanderburgh is a transman and retired therapist. In 1986, he was a founding member of the Portland Lesbian Choir and sang with that group for eleven years. In 1990, he helped found Bridges Vocal Ensemble, a subgroup shared by the Portland Lesbian Choir and Portland Gay Men's Chorus. Reid transitioned from alto to bass while a member of Bridges. In 2008, he joined the Portland Gay Men's Chorus and continues to sing baritone with PGMC. Reid is also a member of the New Harmony Task Force for GALA Choruses. In 2016, he was awarded a Lifetime Achievement Award for Distinguished Service by GALA Choruses.