1983 NYC Lincoln Center, NY
COAST (Come Out and Sing Together) brought together 1,200 individuals from 12 choruses from around the US for the first National Gay and Lesbian Choral Festival. All delegates sang in mass choir conducted by Greg Smith and were housed in one hotel. Commissions: Libby Larsen, Ned Rorum and Samuel Adler
1986 Minneapolis at Orchestra Hall, MN
26 choruses performing. Highlight was singing in Peavey Plaza Commissions: Libby Larsen and John David Earnest
1989 Seattle, WA
37 choruses performing, approximately 2000 delegates. Most delegates housed in dorms. Performances were held in two halls on campus because the event was too large to fit into one hall. Commissions: Conrad Susa, Paul Patterson, Janice Gitek, Holly Near, and Bernice Johnson Reagon
1992 Denver, CO
64 choruses performing, 3400 delegates. Began programming some late night events New works by composers John Michael-Albert, Bill Cutter, Gary Simmons, Alan Stringer, Karen A. Tarlow, Martin Wesley-Smith, and David York were selected as Festival Competition winners and performed by mass choruses at the Festival.
1996 Tampa, FL
86 choruses and 23 ensembles performing Dr. Maya Angelou delivered the keynote address at the Opening Ceremonies where Harvey Fierstein, Ann Hampton Callaway, BETTY, Romanovsky & Phillips and Holly Near appeared as guest performers. Created new women's only space, women's concert, men's pool party Commissions: Ysaye Barnwell, Roger Bourland, David Conte, Joseph Jennings, Erika Luckett and Gwyneth Walker were commissioned to write new choral works. Composer Donald Skirvins penned the Festival Anthem "We Sing the Dream."
2000 San Jose, CA
140 choruses performing including ensembles, over 5000 delegates. This Festival marked the first time choruses did not perform in both halls. Commission: anthem that everyone sang
2002 Regional Festivals in Seattle and Cincinnati
20 choruses performing at Western regional, 26 at Eastern regional
2004 Montreal, QC
163 choruses and ensembles performing, 4750 delegates. First festival outside of the US. First time there were no morning concert blocks.
2008 Miami, FL
107 choruses and 27 ensembles performing, 4700 delegates. Festival expanded to eight days
2012 Denver, CO
112 choruses and 48 ensembles performing, over 6,000 delegates - a new record! Evening BlockBuster and morning Coffee Concerts introduced. Festival shortened to 4.5 days and held in three halls. Commission: Composers wrote rounds and chants for sing-along before each concert block.
2016 Denver, CO
171 choruses and ensembles performed with over 6,600 delegates participating – another new record! Over 800 tickets sold in the local Denver community. First ever live broadcast of major portions of festival with over 21,000 total views. Commissions funded by GALA included works by Nathan Hall, Kala Pierson and Mari Esabel Valverde; many other new commissions were presented by the participating choruses.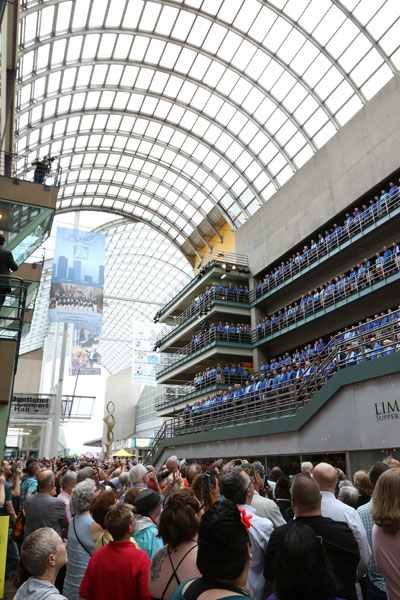 "This was the best event I have ever played. GALA Festival restored my hope for humanity."
- Denver instrumentalist for Festival Opening Concert