The Dr. Catherine Roma Women Composers Commissioning Project
Honor Catherine Roma with a donation toward a commissioning fund. This fund was created by MUSE and is managed by GALA Choruses in honor of Dr. Roma's 40-year legacy in commissioning new music and her support for the visibility and artistry of women composers. The fund offers grant funding to GALA choruses for new commissions by women composers.
Donate Online:
Or, checks payable to GALA Choruses may be mailed to P.O. Box 99998, Pittsburgh, PA 15233.
If you making a chorus payment as a Commissioning Partner include " Roma Commission – Your Chorus Name " in the notes field.
About Catherine Roma
For over 40 years, Dr. Catherine Roma has created vibrant choral communities that reach across barriers of race, religion, class, sexual orientation and age. She works to translate the values of social justice and inclusion into fundamental experiences of community for both audience and singers. She does this through music that spans a wide variety of styles and cultures and through strategic efforts to develop membership and audiences that reflect rich diversity.
Cathy Roma became one of the founding mothers of the women's choral movement, an international network of over 70 women's choruses, when she started Anna Crusis Women's Choir in her native Philadelphia in 1975. She founded MUSE Cincinnati's Women's Choir in 1984 after coming to Ohio to do graduate work at the University of Cincinnati's College-Conservatory of Music where she completed her Doctor of Musical Arts Degree in 1989.
Catherine is currently Professor of Music at Wilmington College. Through her association at Wilmington, Catherine founded and directs UMOJA Men's Chorus at Warren Correctional Institution, in Lebanon, Ohio. She is Minister of Music at St. John's Unitarian Universalist Church in Cincinnati, and is co-founder and director of the Martin Luther King Coalition Chorale.
Recent honors include the Governor's Award for the Arts, in the category Community Development and Participation (2008); The GALA Choruses Lifetime Achievement Award (2012), The Martin Luther King Legacy Award (2013), and the Building Bridges Award given by Bridges for a Just Community (2013).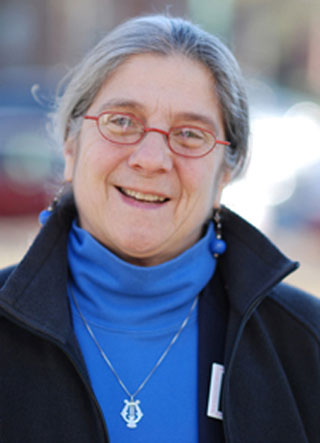 "Cathy's influence as a mentor and artist in the women's choral movement and within GALA Choruses has been profound. Her ability to create community across barriers of race, religion, sexual orientation and age has been transformational. "
-- Jane Ramseyer Miller
Artistic Director, GALA Choruses