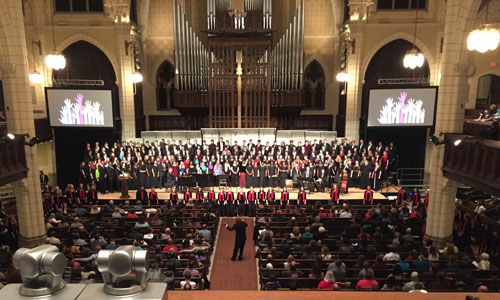 Central Lutheran seats 1,700 in a cathedral-style space including wrap-around balcony seating with stunning architecture and exquisite acoustics. This open and affirming congregation celebrates its 100th anniversary in 2019 and they are proud and excited play a prominent role in Festival 2020.
Central Lutheran is home to two organs which are available for use during Festival. The front organ was built by Casavant in 1963. It is a comprehensive instrument of 4 manuals, 108 ranks of pipes in 5 divisions with 30-40 pre-set memory available to our choruses. The rear balcony houses a VanDaalen chamber organ with 7 ranks on 2 manuals.
Central Lutheran Seating Plan PDF
Additional photos here. Reference only; for GALA stage set-up see the stage drawings above.